This post may contain affiliate links. If you buy thru these links, we may earn a commission at no additional cost to you.
---
Time to buy some new shorts?
Abercrombie & Fitch is one of my favorite stores for summer shorts that last. And chino shorts are my go-to because they're so versatile.
Chino shorts made with a plain front are a classic that can easily be dressed up (for a summer party or dinner and a movie with your significant other) or dressed down (for a baseball game with the kids or a backyard barbeque with friends & family).
When paired with the right shirt, belt, and shoes, chino shorts can really give you a smart, cool look — for day or night.
Today, I'm going to show you how to dress up and how to dress down a pair of chino shorts.
But first, it all starts with selecting the right length of shorts…
Choosing Mens Shorts Length
Here's how to choose the length of your shorts:
Shorter Length Mens Shorts
For the gentleman 5'8 and under, these shorts made with a 5" inseam will elongate your overall appearance.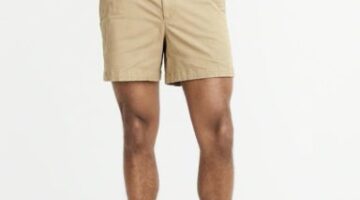 You'll want to wear a low top sneaker, driver, or loafer in lighter earth tones — so that the elongated appearance doesn't stop at your ankle.
Mid-Length Mens Shorts
For the gentleman 5'8 to 6'1, these mid-length shorts are made with a 7" inseam.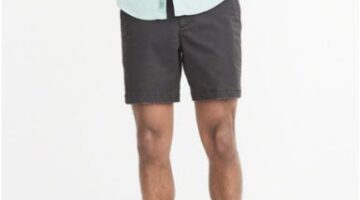 These are a standard length and could certainly be worn by shorter men. But make no mistake… if you are 5'8 and under, the 5" inseam is your best option. If you are 6'1 or taller, these mid-length shorts will exaggerate your height.
Longer Length Mens Shorts
For the gentleman 6'1 and above, these longer shorts are made with a 9" inseam that balances out a taller man.
Dressing up…
Shirts To Dress Up A Pair Of Shorts
Even when wearing shorts, I'm a believer of wearing long sleeves after 6PM — especially if your evening will be spent indoors.
While there are many shirts to choose from, the chambray and solid white & blue oxfords are certainly summer staples. The next best choice is a cotton poplin shirt in plaid, checks, or stripes.
TIP: If you are a guy who likes to roll up his sleeves and you want a little cleaner and sophisticated look, then try rolling your sleeves under — instead of turning them back. Not only does it look cleaner, but the sleeves don't roll back down like they do when you turn the sleeves back.
Lightweight pima cotton in a v-neck or crew neck and a fun summer color is also a great way to dress up a pair of chino shorts. It's not necessary to layer anything underneath these knits — especially for spring and summer.
Shoes To Dress Up A Pair Of Shorts
I strongly suggest a pair of Cole Haan drivers — not only for the chic and sophisticated look, but for comfort.
The Venetian loafer runs a close second in style and comfort as well.
Belts To Dress Up A Pair Of Shorts
It's important to match leather shoes with a leather belt.
A reversible belt will cover both light to dark browns.
Dressing down…
Shirts To Dress Down A Pair Of Shorts
Replace your long-sleeve buttoned shirts and knits for a much more laid-back untucked look in a short sleeve polo.
Dressing down still means maintaining a level of style. In my mind, there is nothing better to maintain that look than crew neck tees and v-neck tees in assorted solid colors.
Shoes To Dress Down A Pair Of Shorts
The classic Sperry boat shoe remains a staple for any casual wardrobe. I equally remain loyal to the authentic Vans — and the multitude of colors available and the price makes it easy to own a couple pairs.
Belts To Dress Down A Pair Of Shorts
You will be hard pressed to find a better selection of colorful and festive d-ring belts than at Beau Ties LTD. These belts are a great conversation piece, and they add a great punch of color and style to any pair of chino shorts.
I've been in the men's clothing business since 2000. My specialty is custom-tailored suits and shirts, as well as men's accessories.