This post may contain affiliate links. If you buy thru these links, we may earn a commission at no additional cost to you.
---
When was the last time you had a good look inside your closet? I mean a really good look?
Do you regularly wear all of the items that are hanging in your closet?
When was the last time you bought something new to wear?
If you haven't updated your wardrobe in awhile, then now is probably a great time for you to kick things up a notch style-wise.
For example, if your signature style is more frat boy than George Clooney, then it may be time for a change.
Following are 4 simple tips for updating your wardrobe…
4 Casual Mens Fashion Styles To Avoid
Start your wardrobe makeover by removing items that say "I'm lazy. I don't care what I look like."
Here are some casual mens fashion styles to avoid, along with some easy alternatives that you might want to choose instead.
#1 – Crocs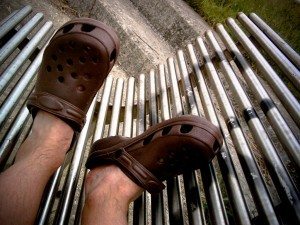 We get it. They're comfortable.
Know what else is comfortable? Running shoes. Loafers. Boat shoes. Anything that isn't Crocs.
There's really no reason why any male over the age of 8 should ever be rocking the ugliest shoes on the planet.
Unless, of course, you'd like to ensure than nobody finds you physically appealing ever again.
Wear this instead: Swap the Lego-inspired footwear for a quality pair of tennis shoes. Sneakers will suit all of your comfort and casual attire needs without crushing your style identity.
#2 – Denim Shorts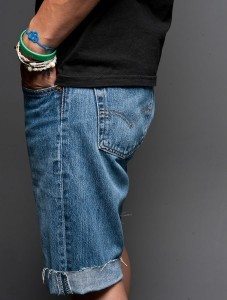 The next time you're tempted to put on a pair of jorts, ask yourself a very important question: "Am I John Cena?"
If the answer to that question is no, then step away from the jeans shorts.
Denim is a flattering and important part of the male wardrobe. Just not for shorts.
Wear this instead: Warm weather is the perfect opportunity to show off your casual side. Opt for linen, khaki, or cotton blends for a more sophisticated version of weekend wear.
Listen to Bud Light's Real Men of Genius "Mr. Jean Shorts Inventor (Jorts)":
https://beauty.thefuntimesguide.com/files/Bud_Light_Real_Men_of_Genius_Mr_Jean_Shorts_Inventor.mp3

#3 – Super Skinny or Baggy/Sagging Jeans
Unless you are a high school student or currently earning a living as a hip hop artist, the time has come for grown up jeans.
No, we're not talking about dad jeans that come up to mid chest.
If you've been alive for at least two and a half decades, straight leg or bootcut jeans in a classic dark wash should be your go-to denim option.
And there's no excuse for your skivvies to protrude a foot over the waistband of your jeans either. Buy a belt.
Wear this instead: Choose a pair of jeans that sits comfortably at — or just below — your natural waist. Fit your waist size first, and if the inseam is too long for your legs then invest in a little tailoring. Real men do. A quality pair of jeans will last forever, so taking the time to get the perfect fit is a decision you'll be glad you made.
#4 – Tacky T-Shirts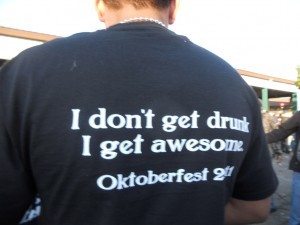 If you bought a t-shirt at a mall kiosk, a swap meet, or on vacation, it's probably got to go.
Your Female Body Inspector, I'm with Stupid, and Free Moustache Rides t-shirts may have been all the rage at parties, but the time has come for your fashion sense to evolve.
This rule goes double for anything Ed Hardy. There's no logical reason for a grown man to wear any shirt adorned with bedazzled dragons.
Wear this instead: You don't have to give up the comfort and ease of t-shirts. Simply opt for tees in solid colors — so you can get the most use from them. Upgrade to higher quality tees — a few at a time, as your budget allows. They may be more expensive, but the fit you get from them is world's apart from anything that comes in shrink wrap packaging.
More Mens Casual Fashion Tips
Jeep guy. Harley owner. Publisher of a few of dozen websites. Tech geek. And I get to play on the Internet for a living!