This post may contain affiliate links. If you buy thru these links, we may earn a commission at no additional cost to you.
---
For almost 15 years, I've been using this Money Clamp wallet.
My wife wrote a good summary of the reasons I've stuck with this brand of wallet for so long and haven't had any desire to switch. I think I've had 3 or 4 different ones that I bought from the same company.
I like the Money Clamp wallet because it enables you to carry:
As many cards as you want
AND
As much cash as you want
I've never had any issues with my Money Clamp wallets.
I was recently asked by the folks at Ekster to share my thoughts about the Ekster Parliament Wallet.
Eager to try it out, what got my attention first was "the pop up card" feature — a really quick way to access your credit cards without fumbling through them one by one!
What I Like Best About The Ekster Wallet
I'll be honest… even though I was super intrigued by the pop-up card feature for accessing credit cards, I really didn't think this wallet was going to beat out my all-time favorite Money Clamp wallet.
Turns out I was wrong!
Three months ago, I ended up ditching my all-time favorite wallet and I've been using this Ekster smart wallet every single day since then.
Here's why:
Once you've whittled down your credit cards to the fewest in number, the Ekster wallet is actually more convenient to carry than my other wallet. I realized that I was carrying around more cards just because I could. (I didn't actually use many of those cards very often — like once a year maybe — yet I felt that I had to have them nearby for that rare occasion that I would need one of them.)
The "pop-up card" feature that I was so excited to try is actually AMAZING. (I call it a "credit card slider.") I like the way it fans out the cards and makes it super easy to grab just one single credit card. This is so handy when you're paying for something in a store or at a restaurant. (Before, I was always fumbling a bit to find the exact card I wanted.)
Even though you can only put 5 cards inside the credit card slider, I was surprised to learn that I can get by with so few cards! As a bonus, you can fit 4 more cards into the side pocket… for a total of 9 cards that you can carry with you everywhere. (I never realized I could get by with so few cards!)
The Ekster is a slim leather wallet (0.59 inches thin) that is professional looking, doesn't scratch easily, and fits nicely inside my pocket. (At first, I thought it would be bulky and thicker than my Money Clamp wallet, but it's not.) 
RFID protection is built-in — so there's no need to worry about someone skimming your credit card numbers wirelessly.
What I Don't Like About The Ekster Wallet
These are the reasons I initially thought I'd go back to using my Money Clamp wallet:
It's not good for carrying cash — because it can only hold 3 or 4 bills total. Plus, you have to fold your bills in a certain way to make the wallet "close" properly.
If you have more than one business (like I do), it can be a challenge to decide which cards to carry. You'll have to come to grips with the fact that you don't need your Health Insurance card, Costco card, and reward cards with you 24/7. (I keep those cards in our "command station" at the house — so they're easy to grab when I need them, but they're not in the open for everyone to see.)
In this case, the pros clearly outweigh the cons — because here it is 3 months later and I'm still using my Ekster Parliament wallet. And every time I reach for a credit card to pay for something, I really appreciate that pop-up card feature!
The Hi-Tech Part Of This Smart Wallet
If you happen to misplace your Ekster wallet, you can ring your wallet from your phone (and vice-versa) via the Ekster tracker card. It's a small plastic card — about the size of a credit card — that tucks inside the wallet itself.
Unfortunately, after using the Ekster smart wallet with the tracker in place, I've learned that there a few more downsides than positives to using the GPS tracker — so I don't actually use that part of the wallet.  
Here's why:
The GPS tracker card itself takes up valuable space in your wallet – which sort of defeats the purpose of choose a "minimalist wallet".
The Ekster tracker card can only determine that your wallet is somewhere within a specific one-block range. Technically, it's something like 200 feet. But if you've truly lost your wallet, that vague of a range is a bit useless — you would want it to be much more accurate than that. 
The GPS tracker itself is solar-powered — so you don't have worry about charging yet another device. HOWEVER, who keeps their wallet out in the sun? (They say that 2 hours of sunshine gives you 3 months of charge — it's not something that I've personally tested.)
The Ekster tracker card has to be activated through a 3rd party company using your phone (so that your phone and your wallet can track each other) — which is fine. But the fact of the matter is the activation alone is like their "freebie" — they're really hoping that they can upsell you to buy their monthly plan that includes more features.
Since I'm not interested in making my slim wallet even fatter AND I'm not thrilled with the extremely broad range that it gives for the location of your wallet anyway, I removed the GPS tracker card and use my Ekster wallet without it.
The Bottom Line…
Ever since I got my Ekster wallet, I haven't second-guessed my decision to switch from a money clamp type wallet to a minimalist wallet. (Even though I was sure I'd never be as happy with any other type of wallet than my Money Clamp front pocket wallet / able to find a replacement for my all-time favorite Money Clamp front pocket wallet!)
The pop-up card slider that fans out your most-used cards at the click of a button is the #1 reason to buy this wallet. (The trigger button for this feature is located in the lower corner of the Ekster Parliament wallet.)
Yes, the GPS tracker works. But it's not the primary reason to buy an Ekster wallet — in my opinion.
Overall, I think it's an affordable, classy gift for the guy in your life. (It arrives in impressive packages and is available in 7 different colors of handcrafted, premium top-grain leather and tanned under gold-rated LWG-certified protocols.)
I hope you've found my Ekster review helpful!
Like this post?

Save it

to read again later… or share with others on Pinterest!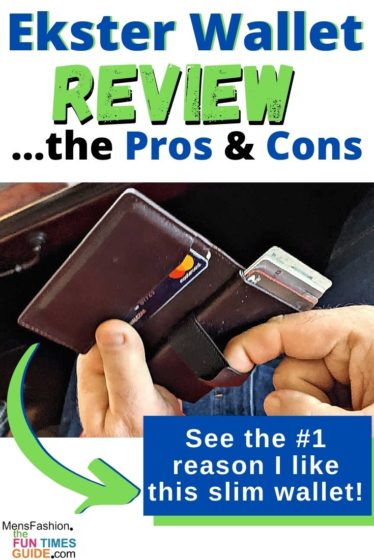 Jeep guy. Harley owner. Publisher of a few of dozen websites. Tech geek. And I get to play on the Internet for a living!