This post may contain affiliate links. If you buy thru these links, we may earn a commission at no additional cost to you.
---
I know, I know. Men's runway fashions seem odd… alien… even downright ridiculous for the average guy like you and me.
But you'll appreciate this, trust me.
It's a peek at the men's clothing styles that you'll definitely see in stores throughout the spring and summer months.
Here's how you can use this info to recharge your wardrobe…
Mens Spring Fashion Trends
Spring Fashion Week has come and gone, resulting in many great style tips that you — and your wardrobe — can benefit from.
While it can be difficult for the average guy to decipher the seemingly mind-boggling fashions put into motion by the world's biggest designer names, I'll show you how you can work these trends into your existing wardrobe.
Use the following mens spring fashion tips to create a sophisticated look that will get you through spring, summer and beyond. (These 5 ideas are budget-friendly too!)
#1 – Color Blocking
Last season's bold, chunky squares have been replaced with thick block stripes.
Moschino made a particularly fierce showing of this block stripe look by adding horizontal stripes to just about everything their models wore. And Valentino took it a step above with color blocked striped suits.
Modernize your own closet with the addition of a block stripe sweater or shirt, paired with dark denim jeans and a gray sports coat.
It's a surprisingly flattering and wearable trend that freshens up things you already own.
#2 – Floral Patterns & Prints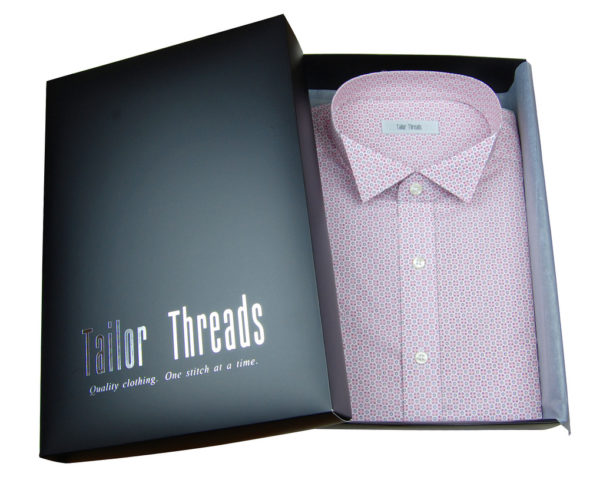 Think floral patterns and prints are strictly for the ladies? Think again.
One of the biggest trends on spring runways was the prevalence of flowered details on all things masculine.
From Gucci's head to toe floral grey-toned suits to Prada's tropical-inspired sweaters decked out in pineapples and birds of paradise, flowers were everywhere.
If you're not quite feeling bold enough to work an allover floral print, there are still plenty of ways to sneak this trend into your warm weather style.
Add a floral touch to your workday look by pairing a tone-on-tone flowered dress shirt (think greys, blacks, blues or even ivories) with a solid suit.
#3 – Go Retro
Classic 50s Americana was all over the catwalks this season.
Cowboy details, loose-fit slacks, high-waisted jeans and rolled cuff pants were the highlight of Jack Kerouac's runway show, among many others.
Embrace this fun look with clothing you already own by rolling the cuffs of your jeans and wearing your collar over your jacket.
One piece to invest in? A brown leather bomber jacket.
#4 – White Out
One of the most prevalent trends on spring catwalks was head-to-toe white.
If you don't already own one, then a crisp white suit should be your must-have list for the summer.
Worried about looking puritanical? Make like Jil Sander and add a bright accent color for visual interest.
A bold pocket square and matching shirt will give you a white hot look for all your warm weather formal needs.
#5 – Tickled Pink
Yes, real men wear pink.
In fact, just about every rosy hue imaginable made an appearance on the spring runways this year.
Pink is hands down the color for men this season.
So whether you're into the soft pink details of designers like Richard James and Valentino, or you're ready to go bold with hot pink like Paul Smith and Jil Sander, be sure to prep your summer wardrobe with — at the very least — one pink shade.
Jeep guy. Harley owner. Publisher of a few of dozen websites. Tech geek. And I get to play on the Internet for a living!