This post may contain affiliate links. If you buy thru these links, we may earn a commission at no additional cost to you.
---
The city streets that surround ballparks in America become congested as entire families, fathers and sons, grandmas and grandpas wearing their favorite team's jerseys, favorite players' jerseys, team hats, and t-shirts congregate around the gates to enter the stadium.
The gates open. As baseball fans pass thru the turnstiles, the clear sunny skies of summer and the bright green grass of the diamond brilliantly lined come into view.
The players donning their team colors are stretching, fielding batting practice. And the pitchers are in the bullpen, warming up those arms.
We arrive at our seats and begin to discuss the lineup for the day and the prospect of catching a homerun ball.
Then it's finally time for the ceremonial first pitch, singing of our National Anthem, and the official call from the umpire to "Play Ball!"
Some of my favorite sights & sounds at a baseball game are:
The pop of the catcher's glove
The crack of the bat
The infield turning a double play
The roar of the crowd after a homerun
Just in the nick of time, echoing thru the stadium is the welcoming cry of the "beer guy, " along with hot dog and Cracker Jack vendors.
Then, just when all the fair-weather fans and children under 5 are ready to leave, it's time for the 7th inning stretch with "Take Me Out to the Ball Game" to bring the game back alive.
If this has not painted a picture in your mind of America's favorite pastime, then you are just not a fan of baseball.
On the other hand, if you love the game of baseball and share my sentiments, then you'll appreciate these places to find your favorite team gear & baseball memorabilia online…
The Most Popular Place To Shop For MLB Baseball Gear
The obvious place to find baseball fan gear online is Major League Baseball Shop website.

You can shop — by team — for every possible piece of team gear you can imagine:
Batting practice
Jerseys (authentic and replicas)
Fitted hats
Visors
T-shirts
Outerwear
They also have a nice selection of baseball memorabilia for your home and office, as well as collectibles.
My Favorite Place To Find Cool Baseball Jerseys & Team Gear
The not so obvious place to shop for MLB items (and a personal favorite) is Ebbets Field Flannels.
I can appreciate the trends of baseball gear today. But at the core, I am an old soul who loves the timeless and authentic craftsmanship that Ebbets Field Flannels offers.
They have some of the coolest throwback baseball gear that I have ever seen:
You will also find clubhouse shirts, vintage satin windbreakers, sweatshirts, and authentic jackets.
My Favorite Places For Baseball Memorabilia & Collectibles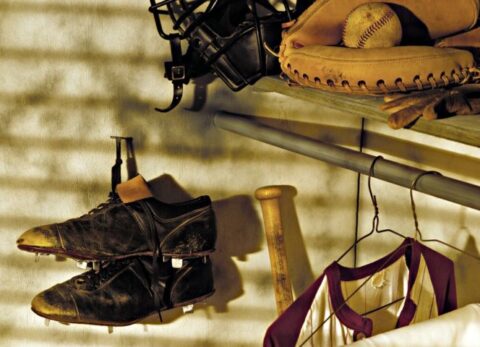 If you're looking for some cool baseball memorabilia and collectibles for your man cave, check out the following sites:
Pillbox Bat Co. – Their name pays tribute to the old Downtown Park in St. Paul, MN. It was so small, (nicknamed the "Pillbox") that hits over the left and right field fences were only awarded 2 bases. They're known for their American-made bats, ball glove wallets, and other baseball accessories.
Sean Kane Baseball Art – They put unique art on classic baseball gloves to create one-of-a-kind baseball keepsakes that evoke powerful memories for the true fan — of their first glove, their first game, or their favorite players.
Mitchell Bat Company – They create American-made bats. You can design your own bat or shop their unique collection of bats.
I've been in the men's clothing business since 2000. My specialty is custom-tailored suits and shirts, as well as men's accessories.